When Should You Sue After Being Bitten Or Injured By A Dog? Initiating A Dog Bite Lawsuit.
According to the CDC, 4.7 million people are bitten by dogs in the United States each year. Of those, a staggering 800,000 bites require medical care.
Most of us love dogs. After all, their unconditional love and wagging tails provide us with a form of companionship unlike any other.
However, we often forget that dogs are animals that act on instincts, not logic. While we understand our own dogs, we can't predict the behavior of strange dogs, and bites do happen.
If you've been bitten, you might be wondering whether you should file a dog bite lawsuit. Keep reading to learn more about your legal options after being bitten by a dog.
UNDERSTANDING YOUR OPTIONS IF YOU ARE BITTEN OR INJURED BY A DOG
If you are bitten or injured by a dog, no matter how minor or severe the injuries, the owner of the dog is most likely liable for what happened. This means that you have the right to pursue legal action and compensation for your injuries.
However, it ultimately depends on the laws in your state whether the owner of the dog will be held liable for the bite. The best thing you can do for yourself is to hire an attorney who is experienced with dog bite claims.
Your attorney will evaluate your case (usually for free) and advise you as to whether you should pursue a claim or file a lawsuit. Having an experienced attorney on your side will also help you alleviate some of the stress involved with being bitten by a dog.
KNOW YOUR RIGHTS
As mentioned before, your rights as a victim of a dog bite depend on the laws in your state. In most states, you can sue the owner of the dog if you suffered harm from their animal.
But there are some exceptions to this, including if you provoked the animal, if you were trespassing on private property when you were bitten, or if you were familiar with the animal and knew that it had a violent tendency or had attacked you or someone else before.
If you can prove that the dog owner is liable for your injuries, your attorney will usually be able to reach an out-of-court settlement, meaning you won't have to actually go to trial. The amount of settlement you will be offered depends on several factors.
For example, if a child is the victim of a dog bite, they can usually get a higher settlement. That's because a child, due to their small size and age, is more likely to sustain significant injuries and experience long term emotional trauma.
Criminal charges can also come into play in these types of cases.

Reasons to Hire a Dog Bite Attorney
Being attacked by a dog, no matter how small or little, no matter where the injury takes place on your body, often leaves both physical and emotional scars that follow you for life. Witnessing a child or other loved one become the helpless victim of a dog attack is just as scarring.
If a dog bite has left you permanently disfigured and psychologically traumatized, it's time you got the compensation you deserve. Animals are wild by nature; even the most trained and seemingly docile dogs can snap and go on the attack. In other instances, dogs are bred by their owners to be aggressive. With natural weapons in the form of teeth and claws, dogs must be held accountable for their actions by their owners.
Make it a priority to consult with a dog bite attorney immediately so that your chances of securing fair compensation go up. With experienced lawyers working diligently on dog bite lawsuits every day, we go the extra mile to hold the dog owner responsible for your injuries.
Here we will go over five reasons to hire a Lancaster dog bite attorney.
Skilled Negotiation Skills
Most people steer clear of confrontation, which is what legal negotiations are all about. Only the boldest, diligent and most tenacious people can stick with a dog bite case from start to finish without wavering. Most of them are lawyers. They thrive on negotiation, bringing extensive experience to the table in dealing with insurance companies. You are understandably confused over whether the settlement offered by your insurance company is fair. Your attorney isn't confused. He or she knows what's fair and when you're being taken advantage of.
Just because you got a settlement offer doesn't mean you should take any amount thrown at you. An experienced dog bite attorney will look over the offer, note its deficiencies, and counter with the amount you should really get. This process may be a volley between both parties several times over. No worries: your attorneys won't back down until they are satisfied the amount will compensate you fairly.
Far-Reaching Legal Knowledge
Those who don't have a firm grasp of the intricacies of California law (most people!) should rely on the experts who do. Because state laws regarding dog bites are complex, you need someone whose full-time job it is to know them. If you're just trying to show up to your own job while nursing your injuries, it can be nearly impossible to tackle a lawsuit on your own. Let your attorney interpret the laws and use that knowledge to assist you in making a fair recovery.
Online legal sites are a dime a dozen, making everyone feel as though they're an armchair lawyer. But successfully negotiating your own case isn't nearly as easy as it seems. Relying solely on online sources will compromise the integrity of your case. You need personal, professional experience for your dog bite case. They've seen similar cases to yours many times, and can use those case studies and examples to educate you on the process, as well as outline what to expect.
When you hire a dog bite attorney in Lancaster, you're hiring a team of people who will work hard to resolve your case and keep you apprised of progress every step of the way. You'll have a lead attorney, a paralegal for research and legwork, and investigators to collect evidence. Just think: if your lawyer needs a whole team of people to handle your case, you know for sure you can't realistically handle it on your own.
Everyone needs the assurance of having someone on their side when facing adversity. The job of your lawyer is to work diligently on your behalf to ensure you get the settlement amount you deserve that is most in line with your injuries. The other part of your lawyer's job is to prosecute the at-fault party so that a senseless dog bite never happens to another person. Thus, you get a personal advocate fighting for you who won't rest until dog owners are held accountable in protecting the public from further injustices.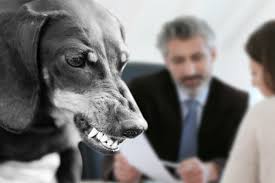 Should I Get a Lawyer for a Dog Bite?
As we mentioned, you can reach out to a dog bite lawyer after you are attacked by a dog. A lawyer may be able to take charge of your claim right away, depending on the circumstances of your case. Your lawyer may help to:
Identify the owner of the dog that bit you.
Establish liability on the part of the dog's owner.
Speak with witnesses to establish what happened in the attack.
Go over all of your medical records to ensure your losses are covered.
Reaching out to a dog bite lawyer as quickly as possible after an attack may help you comply with your state's statute of limitations in case you choose to file a personal injury lawsuit. You may even wish to speak with a lawyer before you contact your insurance company. Your lawyer can handle all communication with the owner of the dog that bit you and their insurance company.
A lawyer may also take steps to appropriately record and evaluate all losses you suffered after a dog bite. You may qualify for compensation for your medical expenses and other losses. In order to get compensation for your losses, you must demonstrate that the dog bite directly led to your injuries, mental anguish, or time off of work.
Your lawyer may also provide you with information about your legal options following a dog bite. Depending on your situation, a dog bite lawyer may advise you to:
Negotiate with the dog owner's insurance company.
File a lawsuit against the dog's owner.
Handling negotiations with insurance agents may take up more of your time and focus than you desire. A dog bite lawyer may help you assess any settlement offers made by the insurance company while working to ensure you suffer no further losses as a result of the accident.
Here are some of the damages that you may be entitled to recover if you are bitten by a dog:
Medical expenses: You can pursue compensation for past, present, and future medical expenses in a dog bite injury claim. Compensation for future medical care is especially important in cases where serious injuries result from dog attacks. Some reports show that dog bite victims suffer more than $1 billion in monetary losses every year, and much of those losses come in the form of medical bills.
Lost income and future earning potential: Depending on the extent of your injuries, you may be facing a long leave of absence from work as you undergo surgery or other treatment after being bitten. Worse yet, your injuries may impact your ability to keep working in the future. Damages for lost income and future earning potential can help keep you living comfortably in the aftermath of your attack.
Pain and suffering: You may be in serious physical pain after being attacked, and dog attacks can leave mental scars that linger for years afterward. In successful dog bite injury claims, you can be compensated for both the mental and physical pain you suffered when you were attacked.
Dog Bite Prevention
While it is impossible to prevent all dog attacks, there are certain measures a person can take to decrease the likelihood of a bite. For example, a person should be cautious around strange dogs, especially any that look unfriendly or do not have an owner in the vicinity.
Furthermore, a person should be alert and aware of their surroundings, and teach the same to their children. Also, asking an owner for permission to pet a dog before doing so may also help to avoid suffering a bite.
After sustaining a dog bite, a victim may feel overwhelmed and frightened. Of course, seeking medical attention should be a person's number one priority. However, getting a dog owner's name and contact information is also important for a future claim. Additionally, requesting proof of a dog rabies vaccination can determine if a person needs a shot to treat the disease.