Hydro Jet Services
Problems with your sewers have the potential to be quite serious, so pick up the phone and call us as soon as you notice something out of the ordinary. Save money today on plumbing repairs and hydro jet services
If you ever have the misfortune to encounter a drain clog that simply won't budge no matter what you do, a heavy-duty professional solution may be required. There are times when a drain becomes packed with years' worth of sludge caused by hair, food, paper products or soap, and it needs a special technique to blast through everything that stands in its way. In the professional plumbing world, the technique is called hydrojetting.
Your Hydro Jet Questions Answered
A Hydro Jet is a machine that uses water to power through almost any type of drain clog. The water is sprayed into the drain under high pressure, and can reach up to 4,000 psi, depending on the power rating of the machine in question. Even blockages caused by invading tree roots aren't a problem for a good hydro jet service performed by an experienced plumber with ample drain cleaning training. Hydro Jet services are reserved for the most difficult of drain clogs, and for that, it is quite effective.
Should I try to Hydro Jet Myself?
Since hydro jet services are part of an overall solution for seriously clogged drains, the DIY approach isn't usually warranted. The average homeowner doesn't have the necessary equipment, and doesn't have the necessary expertise. Some have tried an air compressor or high-powered hose to do the trick, but typically these methods have little to no success. In some cases the clog may move a little but it won't help solve the issue in the long run. If you attempt to perform a hydro jet service yourself you'll most likely add a bunch more water to an already clogged drain, only making the situation worse.
How to Prevent Serious Drain Clogs
Many of the kinds of clogs that require a hydro jet as a solution are created over months or even years. It's just a slow buildup of materials like cooking grease, hair, food particles and paper products that don't move through the system and gradually harden on the insides of the pipes. To prevent this from happening, start being more diligent about what goes down the drains in your home. It may not matter to you now because the result takes time, but you'll be doing yourself a big favor for the future if you monitor the situation now.

HYDRO-JETTING
When you think of plumbing issues, perhaps the most common scenario you imagine involves clogged pipes. That's reasonable enough if you do. After all, clogged pipes are just about the most common kind of problem that can plague your plumbing
And your pipes can certainly get clogged in a variety of ways. You might flush just the wrong thing or too many of something. Maybe dirt or other debris will build up over the years. Perhaps even your pipes could accumulate grease after enough time of carelessness in the kitchen.
It doesn't matter what the reason is, really. What DOES matter is that, if your plumbing's pipes become clogged, you're going to want to get them unclogged and unclogged FAST. And a great way to get your plumbing unclogged is to call on a professional plumbing expert for a hydro-jetting.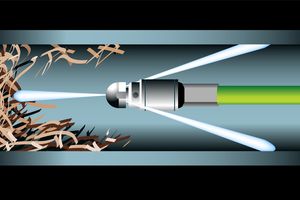 HIGH-PRESSURE WATER JETTING
Grease, sludge, sand and debris are the main causes of commercial drain line blockages. Our high-pressure water jetting service can help you clear this sediment by:
Penetrating and emulsifying grease
Breaking up sludge and debris
Pulverizing roots
Cutting out hardened scale
Flushing out the system
Cable machines are used to remove tree roots and break through solid obstructions. However, they are less effective in removing softer blockages such as grease, scale and other buildup. Cable machines will bore holes through sludge but they can't clean and push the debris out of pipes as effectively as a water jet machine.
High-pressure water jetting is an efficient, economical, and environmentally safe way to clean drain and sewer pipes. Using state-of-the-art pumps and flexible hoses, ordinary water is propelled under varying amounts of pressure into the sewer line. A special nozzle mounted on the end of a heavy-duty hose has an array of forward and reverse water jets, which direct extremely powerful concentrated streams of water all the way to the pipe walls. Even the toughest blockages and buildup can't stand up to water jet machine cutting, which thoroughly cleans pipes.
Restaurants and other commercial establishments typically require frequent high-pressure water jetting to remove mineral deposits, grease buildup, sludge and debris that accumulate in the lines. Clogs can cause down time, and down time in any industry means lost customers and revenue. Some businesses may require just one or two cleanings annually, while others benefit from monthly or quarterly cleanings. That's why many of our customers prefer to set up a scheduled program for water jetting service that keeps their drains flowing freely. professional can recommend a jetting service schedule that best meets the needs of your business.
All it takes is a few inches of water to create a serious water damage threat to your home or office. The harmful effects of water damage can be reduced greatly by the prompt and reliable water damage restoration service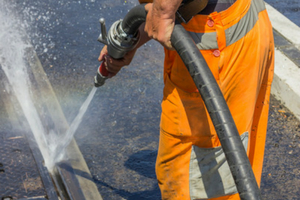 The Truth Behind Your Hydrojetting Service
Drain cleaning is probably the last type of cleaning you think of when you think of hiring a housekeeper. However, it is just as important as keeping the visible portion of your home tidy. When your drains are left unattended to for long periods of time, you may begin to experience low water pressure, slow water drainage in tubs or showers, and overflowing toilets.
Hydrojetting: What it Is
When you are in need of serious drain cleaning, we recommend a process called hydro jetting. Hydro jetting is basically spraying water through a nozzle at a high pressure (and temperature) in order to blast away debris, dirt, contaminants, and clogs.
After your drains have been hydro jetted, you will notice that your water pressure has been restored, toilets don't overflow nearly as often, and your drains function properly–probably as well as brand new ones!
The next question is WHY we recommend hydrojetting instead of snaking or store-bought cleaners. While snaking drains can be a good idea when done by a professional, sometimes clogs are too far for our tools to reach. In addition, the clog is the only thing removed with a snake, the debris and buildup in the pipe stay where it is.
Store-bought cleaners are another issue entirely, actually: they are dangerous. These products are made with lye which has been used over the years in soaps and detergents. Lye, when used in soap or detergent isn't inherently harmful. When used in a high concentration (like in drain cleaners) it can cause burns to the skin, eyes, throat, and lungs.
Why is Hydro-Jetting a Good Idea
When your drainage problem persists, then have this service done by your local plumbers. Your local plumbing contractor will be equipped with high powered hoses that's going to get your drains unclogged. Plumbing services and repairs are done best by professionals
Of course you can dump a drain cleaner down your drains in hopes that something magical is going to happen, but chances are that your drains are going to continue to clog if you don't have an industrial cleaning done on them. Most homeowners tend to ignore their drains until something occurs such as clogs. When a clog happens the firs thing that many of them do is try to plunge out the clog as there are many home remedies that work just as there are many that don't. What you need to be doing is getting a hold of a plumber. Drainage clogs tend to cost lots of money to eliminate.
You spend half your day waiting for a repair person to come out and the other half worrying about how you're going to pay for the repair. You don't have to worry any longer as there is hydro-jetting. It's the ultimate technique for drain cleaning. If you've lived in the Ventura area for a long time, then you know that California is always on top of things in regards to being cutting edge. But it really is on top of things as far as plumbing is concerned
Hydro-jetting is a great idea for homeowners in the area as you are more prone to loose desert sediment and earthquakes.