ESSENTIAL TIPS FOR CHOOSING PROFESSIONAL OFFICE MOVERS
People often say, relocating a business is perhaps the toughest and most cumbersome things have to manage at the office. Imagine the amount of work that goes into the entire process! There are various thing like sorting, packing, moving and arranging which may use up too many resources. Choosing a professional company who are well experienced in such tasks is a smart move. Now that does not happen with a flick of a wand! It needs a professional and experienced team who have experience with commercial moving services to get that kind of work done.
Selecting a commercial moving company can be very challenging. There are many things to be considered when hiring a company. If an office relocation is being discussed, obviously, there will be a lot of electronic gadgets, important documents, furniture, hardware, etc. that will need relocation
Is the moving company licensed?
The importance of this first step cannot be highlighted enough. This is a crucial step to look into while hiring a commercial moving company. Be wary of the search results when you begin your Google search for movers and packers. Do you investigation. There are inexperienced moving companies all over the internet. Avoid falling into one of their traps.
How Long Has The Company Been In Business?
Practice makes perfect. Or in the case of a company offering commercial moving services, "experience makes perfect", it is important to select a commercial moving company which has been in the industry for long time. For sure, over the years they have become better and better at their job and will be able to provide your organization with quality moving and packing services. Though experience generally does not mean perfection, in this industry it does!
Select A Company with Affiliations:
Certifications and affiliations play a very crucial role in commercial moving services. We recommend choosing a company which has noteworthy affiliations. Look for affiliations to larger van lines along with certifications provided by the FIDI, The International Association of Movers, BSI and such others. Why are affiliations to ProMover and AMSA so important? In order to get them, a commercial moving company must meet certain criteria and standards. By choosing a certified, affiliated company, you'll get quality service and won't waste money on some inexperienced mover, who might end up damaging your goods. Additionally, it is important to ask for recommendations from people who have used commercial moving services before. Nowadays every company has a website. Websites are filled with sugar-coated words, and cherry-topped stretched-out truths. You can't only go by what is written on the websites. Take some time out to check the client testimonials and the reviews sections of the company before you call them.
Tips for Choosing Professional Office Movers
Moving your office can be one of the most daunting tasks in your corporate life. Apart from all the planning and packing that comes with moving, you've got the leases to negotiate, consider how the new office may affect employee morale, renovation costs, amongst many other issues that will keep you awake. Hence, the last thing you want is a mess on the day of your move. This is why you need a professional office moving company to provide a trusted and assuring service, one who not just physically moves your properties, but a pro who can sit, plan and advise you on how best to execute the entire moving process.
You want to find movers who are experienced in commercial and office moves.
Moving an office often requires a different set of skills than moving household items. Too often, run-of-the-mill house movers claim to be professional office movers when they do not understand the nuances associated with office moves. These include knowledge of the loading / unloading logistical issues, the moving hours stipulated by your building managers, and most importantly, your needs to ensure minimal downtime for your business. As a professional office mover, we give thorough considerations to all your concerns, plan and propose our moving plan and offer one-flat rate for our services so that you will not be met with nasty surprises on the big day.
Do background checks on your movers.
All authentic movers would have built their credentials and integrity as professional movers. A quick search on Google and the many social media platforms should give you a decent review of the moving company that you are considering. Google reviews and ratings come from genuine users and give you some insights into the company's reliability. For example, a website with 4+ stars and genuine-looking reviews can be trusted. Do not miss their 1-star to 3-star reviews because most people speak some truth while giving these reviews.
Ask a friend!
The traditional word-of-mouth hardly fails. Getting opinions from a family member or a close friend who has engaged the services of a professional mover will help you increase your chances of finding that reliable moving company. This is so as a professional mover always believe in building strong rapport with their clients to provide a trusted and assuring service.
Insist on a site visit.
Unless you are moving a small office where you can easily list the items you have to move, always insist for your moving company to view your office and the assets that you have to move. This site visit will allow professional movers like us to better understand your move requirements so that we can help you plan and organize your move, in addition to just providing the muscles for the physical move on the move day.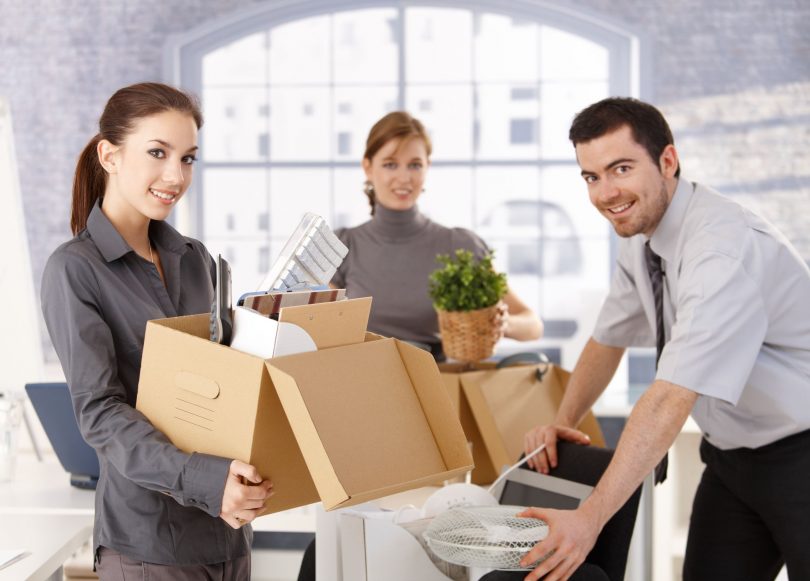 Tips for Selecting the Best Office Movers
Has your company become so large that you are no longer able to work in such a small place? Congratulations, it has officially the time come for you to relocate. You need to bear in mind that this process is complex and that it will take some time for you to make plans. One of the tasks that need special attention is selecting the best office movers. Even though there are many moving companies on the market, it does not mean that all of them are reliable. In order to avoid moving scams,
Do some research
The proper way of selecting the best office movers is researching their customer history. However, before doing that you should check whether they are listed on the Better Business Bureau. If you confirm that they are licensed, go to reading customers' reviews. Of course, bear in mind that it is not likely that you will find only the positive comments. There will always be some negative ones, but what is important is that they are the minority. In case a certain company is on the market for many years, there will certainly be a great number of reviews. People are willing to share their experiences, so, you will know what you can expect
Find out how many years they have been in business
Since there is great competition among moving companies, it is probable that only the best ones have survived. This means that a piece of information that will help you make a decision is how long they have been in business. The longer they have been on the market, the more experience they have. Having a more extensive history will make them a more reliable choice. For example, Dallas-Fort Worth movers can be said to be a company of this sort. Not only do they have experience in home relocation but they also have experience in office relocation. Feel free to rely on them for disassembling, transport and reassembling all of your equipment. They also have the proper tools, which means that your items will not be damaged during the relocation
When selecting the best office movers, ask everything you need to know
Do not be shy when making an arrangement with the moving company. Once you find yourself talking with their representative, make sure you ask everything you would like to know. For example, you can directly ask them to send you references from several moves of theirs. In addition to this, you should ask about the insurance for your goods, how many people will be assigned to your move, do you need to find moving boxes, etc. Once you get the answers to questions like these, it will be much easier for you to keep on with the moving process. You will know that you have a reliable partner by your side who is going to help you and do some things on your behalf. In this way, you will be able to focus on completing some others, equally important tasks
Ask them about a free moving estimate
A document that each and every reliable moving company should provide you with is certainly a moving estimate. This is a piece of paper where all of your items are listed and from which you can learn how much your relocation is going to cost. It is not likely that this amount is going to change on the day of the move. The only reason for which it can change is the fact that you have either not listed all of your items or that you have not mentioned there are some obstacles for the movers, such as too many stairs or narrow hallways. In order to avoid this from happening, make sure you mention even the most minute details. In this way, you will get a free moving estimate that will not be prone to any change.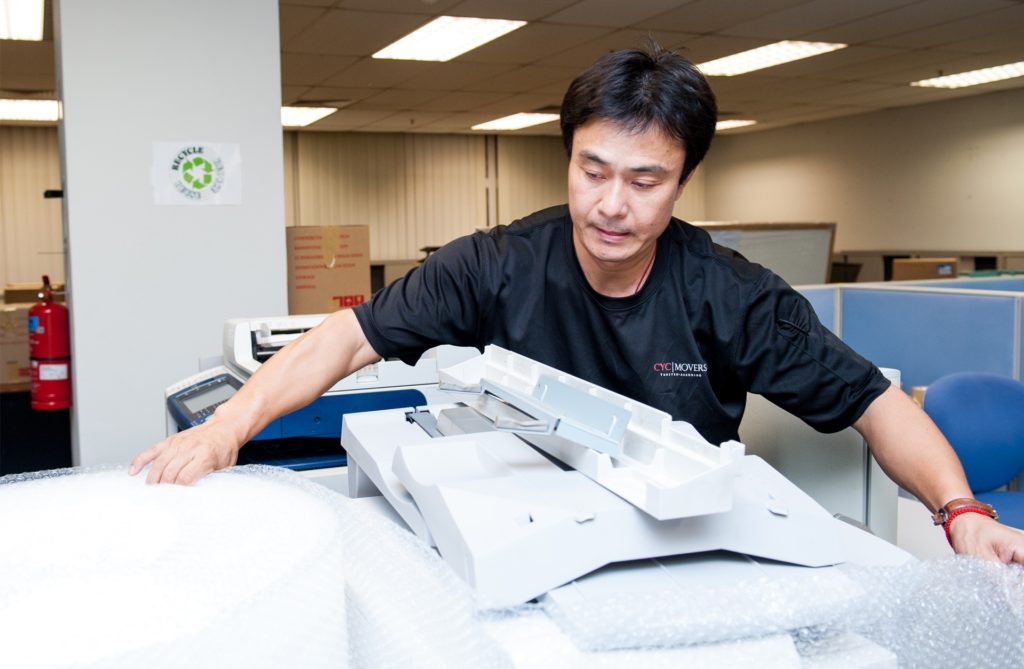 Tips for Choosing a Corporate Relocation Company
When the time comes to move from one office to another, choosing a corporate relocation company can certainly cause some serious anxiety for the person in charge. How do you find office movers who are trustworthy, honest and careful with your company's most prized possessions? How do you know they are truly relocation experts? Below are several important moving tips to consider when choosing a business mover.
Think through all of your company needs. Determine the additional services you might need besides the general move, such as assistance with packing, storage units, auto transport for company vehicles, handling of sensitive items, and artwork crating.
Evaluate your options. You should get quotes from at least three different corporate relocation companies to ensure that you are not paying too much or receiving an unrealistic low-ball proposal. Have your list prepared with of all of the important points relating to your move.
Identify the moving companies that specialize in corporate relocation. This goes beyond the obvious local movers or long distance movers. Make sure you confirm the experience of the movers with moving large-scale office supplies. How many moving trucks will you need? Do you save money by using more small trucks, or fewer large moving vehicles?
Get the right price. Most moving companies will insist that they do a walk through prior to delivering an office moving quote – this is very important. Movers must see how many flights of stairs you have, the presence of narrow hallways, the weight of items, and the distance from the exit point of the office building to the moving truck bay doors. All of these factors contribute to the price. The time it takes to assemble and properly secure all the office goods will be factored into the final cost unless you pack them yourself. Be sure to get any quotes in writing, and find out what circumstances could cause the estimated price to increase.
Ask the Right Questions
Finally, consider asking moving companies the following questions when preparing for your business relocation.
For peace of mind, it's always a good idea to go online and search for moving company reviews and ratings about the experiences others have had with your potential moving choice. Don't forget to check with the Better Business Bureau to ensure that no formal complaints have been lodged against any of the movers you are considering. Choosing a corporate moving company may not be an easy process, but comparing quotes online helps people find the best price on moving services.
How To Choose The Best Office Moving Company?
If you are planning to shift your IT firm, then you will agree that office relocation can be a challenging process, as it can be time-consuming and would require you to handle several tasks at once. Apart from the hassles of packing and unpacking, it can be hard to lift or move office stuff from one building to another.
Selecting The Right Office Moving Company
The perfect moving company will help you to relocate your office in an effective and seamless manner without affecting your office productivity. The experts at the moving company are efficient and experienced to handle office moving process without any hassles to ensure that office relocation does not impact your workforce and departments. Before selecting an office moving company, it is important to consider a few pointers to choose the services of an IT relocation company.
Consider Their Years Of Experience
Always check how long an office moving company has been in this business. Only those companies that offer best services can survive in the competitive industry. Choose the company that has a long history of being a well-established business mover, which indicates that they are a trusted choice. Make sure that they have been relocating offices in and around a specific location that you are planning to move, as it will help you stay assured that they are well versed in relocating offices in that region.
Check Their Reputation
Check the website of the office relocation company and check the testimonials sections to find what their customers wish to say about their services. The real users are from real users who have chosen the moving services to shift their business establishment from one place to another.
Understand Their Pricing
It is important to understand their terms of pricing to ensure that the quote offered by the business relocation company is realistic. Know how the pricing is set for their service, whether it is for the number of hours, the volume or on square foot basis. Do not forget to ask about the add-on charges for handling very heavy office items, assembling or disassembling the furniture or for packing supplies.