How to Select the Best Roof Shingle
Selecting the best roof shingle can be a daunting task. There are many options involved, including shingle composition, style and colors, not to mention price. All of these factors must be weighed into making a shingle decision, and even then, there are variables within variables. Foremost to keep in mind is how long a particular type of shingle will last in your particular climate. Bottom-basement-priced shingles won't last as long as top-grade shingles, and some types of architectural shingle patterns are more suited to a dryer climate than wet-weather patterns.
Determine the cost. Use a tape measure to measure the approximate square footage of your roof. Shingles are sold by the square, and each square will cover 100 square feet. Measure the length and width of your roof area to determine the square footage. Multiply the results together. For example, a 10- by 18-foot roof equates to 180 square feet of roofing area. Add in 10 percent to cover waste for a total of 198 square feet. You will need two squares for that project. Knowing this will allow you to calculate the cost for any type of shingle that you desire.
Decide on a warranty or how long they will last. In general, the more expensive the shingle, the longer it will last. This will vary with architectural shingles, however. Your cost will be more for these designer shingles, but they may not last as long. Warranties are only as good as the company they were made by. Stick with a known shingle manufacturer instead of some fly-by-night start-up that may guarantee you the moon but not be around long enough to honor it.
Choose the type you want. Asphalt shingles are the standard of the industry and are priced accordingly. They have some of the longest warranties available and are always a good choice for durability and effectiveness
Choose the color that you want. Shingles come in a variety of colors that will fit the decor of any home. Reds, greens, blues, whites and custom colors are available. The darker the color, the more heat will be retained on the roof. A lighter color roof makes for a cooler attic, so if you have usable attic space, a lighter color may be a better choice.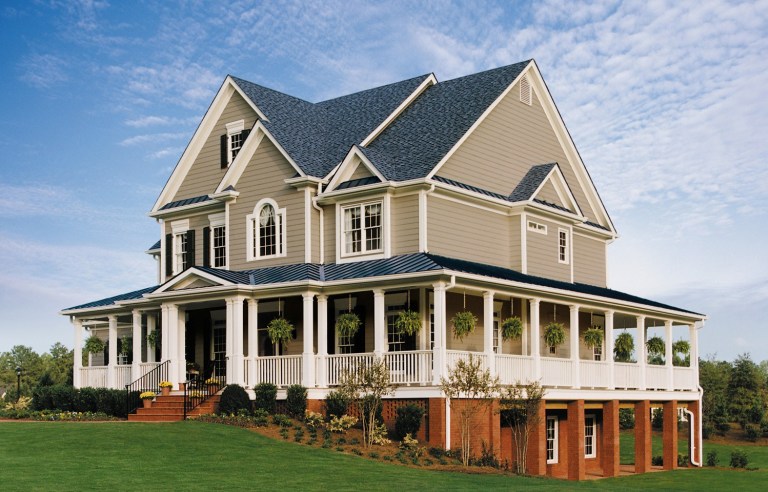 How to choose roofing shingles
Consider your needs and preferences
The best roofing shingles for your home will meet your budget, provide the durability your roof needs, and create the curb appeal you want
Your budget
Your roof may be one of the largest investments you make in your home, and with so many types and styles, you can find shingles that fit a range of budgets.
Durability
All GAF shingles are designed to help protect your home from the elements.
GAF Advanced Protection Shingles
Our most popular Timberline® Shingles feature proprietary GAF Dura Grip™ adhesive that seals each shingle tightly and reduces the risk of shingle blow-off, with a warranty to withstand winds up to 130 mph. Timberline® Shingles have also earned the highest roof fire rating — UL Class A, Listed to ANSI/UL 790.
If wind is a significant part of your area's weather patterns, our most popular Timberline® Shingles offer all-around durability and performance. And now, Timberline® Shingles with LayerLock™ Technology may qualify for WindProven™ Limited Wind Warranty, the industry's first wind warranty with no maximum speed limitation when installed with the required combination of GAF accessories

How to Choose High-Quality Asphalt Roof Shingles
A new asphalt shingle roof is a significant investment. To get the most bang for the buck, you'll want to consider the quality of shingles, the knowledge and skill level of the roofers you intend to hire, and also a few preventative maintenance guidelines. When high-quality asphalt roof shingles are correctly installed and well maintained, they can last for decades
Though getting the best asphalt roof shingles for your project isn't too complicated, choosing the right shingles involves more than just considering style and color. Now, we invite you to read on for the best tips on how to select and maintain asphalt shingles.
Fiberglass Shingles – Fiberglass shingles are made from a woven fiberglass mat coated with top-and-bottom layers of asphalt and topped with ceramic granules. Since these shingles have a higher fire rating (typically Class A, while organic shingles only garner B or C) and are more durable than their organic counterparts, they come with extended warranty. Additionally, today's manufacturers make available Energy Star certified fiberglass shingles, which keep buildings cooler and reduce air-conditioning costs
Organic Shingles – Traditionally consisting of cellulose fiber (e.g. recycled waste paper or wood) saturated with asphalt, organic shingles are coated with a mixture of asphalt and mineral fillers. Compared to fiberglass shingles, organic shingles are costlier, heavier, thicker, and less environmentally friendly due to the high asphalt content. Because these shingles absorb more water than fiberglass shingles, they deform more as they age
Choose the Right Style
One thing good about asphalt roof shingles is that they are made so many colours and styles some even look like other types of roofing materials. Before opting for a particular style, it's essential to know that fiberglass and organic shingles are further divided into two categories
How to Choose the Color of Roofing Shingles
Your roof is one of the most important parts of the exterior of your home, and choosing the best color for your shingles will ensure that your home looks beautiful. In general, roofs last about 20 years, so you might be stuck with the shingle color for quite a while. To make an informed decision, you should consider your home style, the look that you want to achieve, and the climate where you live.
Choose a color that pairs well with the color of your house. Shingles can create contrast with your siding materials, or they can blend in with the other design features of your home. If you want to go the traditional route, stick with gray, brown, or black shingles. For a contrasting pop of color, opt for reddish-orange shades or lighter tan colors
Accentuate the architectural style of your home with your shingles. Drive around several neighborhoods to get an idea of what color of roofing would look best on your home. Look for houses with a similar shape, exterior, and color as yours. Note which roofing and siding pairings seem to look the most appealing to you, and search online for houses that are architecturally similar to yours
Install a "cool roof" to make your home more energy efficient. Opting for an energy efficient roof can lower the temperature of your attic by 20–40 °F (−7–4 °C). If you live in a warm climate, install this type of roof to help lower your electricity bills and improve the longevity of your roofing materials
Check rules about shingle colors if you live in a residential neighborhood. If you have a local homeowners association, read their rules carefully to make sure your choice of roofing color does not violate any regulations. Even if you don't have set rules to follow, think about how your roof will look alongside your neighbor's house
Roofing Calculator – Estimate your Roofing Costs
The roof accounts for as much as 25 to 40 percent of your home's visible exterior and plays a key role in how your home is perceived from the street. That's why it is crucial to pick the right shingle color, especially if you want to enhance your home's overall curb appeal and present it in the best possible light
What to expect: This guide offers practical and proven tips for choosing the right asphalt shingle color to achieve that WOW effect in highlighting the beauty of your home. The advice provided below will help your achieve visual harmony with respect to how well the roof color integrates with the rest of your home's exterior and its surrounding environment. Let's get started.
Coordinate with Siding and Shutters
Interior designers don't randomly pick pretty colors for flooring, cabinets, countertops and walls without regard to the big picture.
Know When to Use Color Blends
Asphalt shingle lines are produced in solid colors and blends. For example, CertainTeed Landmark shingles in Hunter Green show no variation. They're just deep green
Now, here's the blending principle: The plainer the siding is, the more a blended color pattern is needed to make your home look interesting and appealing. A solid black roof on a home with dark brown wood siding creates a boring combination