Bat Removal and Control
Bats are usually classified as a pest species due to their habits of living in houses. The most common complaints include the following:
Bats living in the attic
Bats living in the chimney
Odor due to bat droppings
Bats swarming around building
Loose bat stuck inside home
For these reasons, many people wish to have colonies of bats removed from the building. Please be aware that this is a specialty service.
Bat Removal – How To Get Bats Out of Buildings

Step 1
Perform a full inspection of the building. This is to determine exactly how the bats are getting in and out.
Step 2
Perform an attic inspection, and learn to identify the species of bat. This is important because different bats have different birthing and hibernating seasons.
Step 3
Exclude the bats – DO NOT ATTEMPT TO TRAP THEM. Read here why you should not try to do bat trapping, but rather bat exclusion, which is the process of letting them fly out, but not back in, to the building.
Step 4
Seal up the house to keep bats out permanently. In fact, much of this is done prior to the exclusion – just be sure not to seal up the primary exit points while any bats are inside!!
Step 5
Clean the attic or walls, or space where the bats lived and defecated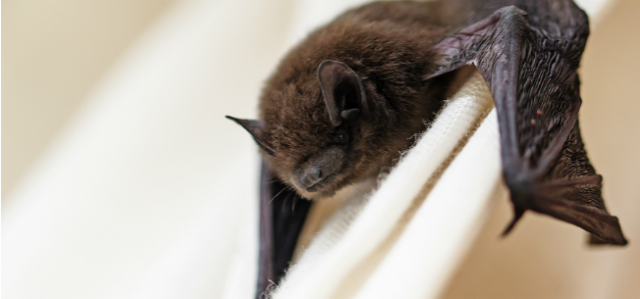 Inspect the buildings for entry points and roosting areas.
Identify areas in and around buildings where bats can enter. This step is vital for effective placement of bat-eviction tubes and nets.
To witness bats entering or exiting the building, monitor it during early evening (dusk) and just before dawn. Note all the locations where the bats leave the building. During cooler months, you may need to inspect several nights in a row to establish exit/entry points, because bats do not leave the roost at night in cold weather.
When inspecting the exterior of the building, look along roof lines and behind gutter placement for rub marks, which are stains left by the oils and dirt rubbing off the bats' hair. Like rodents, bats will leave some evidence of staining; however, bat stains are harder to see. Also look at ground level for guano—in most cases, the bat-entry points will have some guano buildup if the colony is large enough.
Inside, identify all parts of the building where they may have established roosts. These areas can include chimneys, attic spaces, wall spaces, ceiling spaces, expansion joints, and roof overhangs. Bats also roost behind gutters, in sports stadiums, and beneath or behind signs and fixtures.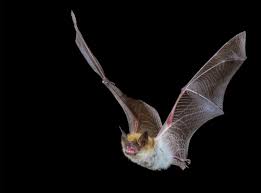 Exclusion
The process of exclusion involves using netting or tubes at entry points, which allow the bats to drop down and take flight but which confound re-entry. The excluders are left in place for a week, so that the bats give up. After they're gone, the plugging and sealing and caulking can take place.
In parts of the country, bats migrate in fall to hibernate for the winter; if yours have left for the season, and you know where they're coming in, late fall is the time to plug up all holes and cracks around windows, fascia and soffits, cornices, chimney flashing, etc. If the bats were living in the chimney, cover the top with a "box" made of fine-mesh screening.
If the bats have taken up residence, plan to evict them in late summer or early spring, not after birthing season, when pups (who can't fly) would be orphaned and die. Don't evict them in winter, when they're hibernating and can't fly out.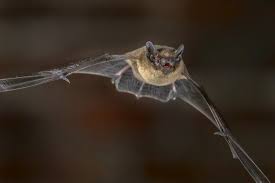 Consider Offering Alternatives
Bats found roosting in your home aren't malicious, and they certainly don't mean you any harm – in fact, because of their role as insect-eaters and mosquito snatchers, bats are actually highly beneficial to the local ecosystem. That's why it may be a good idea to offer bats an alternative roosting spot nearby – that way, they won't be as tempted by the security of your attic.
Bat boxes and bat houses are as easy to set up as a birdhouse, but are designed to offer ideal roosting space for bats and their pups. Consider installing a bat house on a tree or a flat surface facing south or southeast (with around 6 to 8 hours of sun) at least 10 feet off the ground. By giving bats a better alternative nearby, you make your home less tempting and allow bats to live in peace – a helpful neighbor for those buggy summer nights.
Evicting bats
The best way to get bats to leave is to eliminate roost-friendly sites. To do that, bat experts recommend:
• Shining a bright light on the spot 24 hours a day for a week.
• Using nontoxic aerosol dog or cat repellents available at hardware and garden stores. Apply the spray during the daytime and only when bats are not present.
• Hanging Mylar balloons or strips of aluminum foil from the porch ceiling.
Don't use sticky bird repellents. Some of them are marketed as a deterrent for bats, but they are inhumane. Bats can become trapped and die.