Symptoms of Sick Electrical Panels
Old electrical panels can malfunction, but most of the time the problem stems from overloaded circuits. At first you might notice flickering lights or you might have to turn off an appliance in order to use another plugged into the same circuit. But if the panel is malfunctioning or defective, the breakers will trip often, or they will fail to trip and someone might be shocked. In the worst case, a breaker that fails to trip may cause fire, smoke and melted wires from overheating.
Checking Your Electrical Panel
Your electrical panel needs a checkup, especially if it's more than 25 years old. Here are the signs to look for to see if you might need a new electrical panel:
You hear crackling sounds from the electrical panel.
You see corrosion and rust on the circuit breakers.
The interior of the electrical panel feels warm.
Appliances are running at less than full power.
Outlets near water sources – such as sinks, tubs, dishwashers and clothes washers – are not GFCIs (ground fault circuit interrupters). These outlets stop the electricity if an appliance comes into contact with water, preventing electrocution.
You're always using extension cords.
Your home has a 60-amp electrical service.
Your home has 100-amp electrical service, but it still can't operate some appliances.
Your older home has a fuse block panel or split-bus panel, which do not have a main breaker.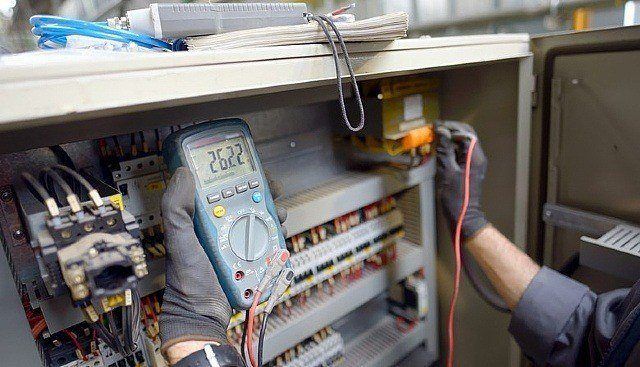 Signs You Should Replace or Upgrade the Electrical Panel
There are a few instances where you'll want to replace your electrical panel as soon as possible. Learn how to locate your electrical panel.
If you have any of the following electrical panels, contact an electrician right away to diagnose the situation:
Outdated Electrical Panels
Federal Pacific Electric (FPE) and Zinsco electrical panels were a very common choice from the 1950s to the 1980s. Unfortunately, as years passed, people started realizing that they weren't functioning properly. Too often, the panels would fail to cut off power when there is a short circuit or too much current.
If your electrical panel does not properly trip when an electrical hazard is detected, a fire could start.
Outdated panels are any panels that are more than 30 years old. If you have an older panel, you may only have 60-amp electrical service as opposed to the 150 or 200-amp service of modern homes. Contact an electrician if your panel is over 20 years old.
Water Leak
If you experience a water leak near your electrical panel, keep away from the area and call an electrician immediately. If there is any evidence that the panel has been exposed to water (including rust stains or corrosion on the wiring), it will probably need to be replaced.
Underpowered Panel
Every electrical panel has a maximum power rating – which dictates the amount of space for breakers. The original fuse panels offered 60 amps of power which were followed by the standard breaker panels at 100 amps. The recommended amount for modern builds and upgrades is 200 amps. If you are planning on a remodeling project or adding on to your home, you may need to replace your panel entirely.
Faulty Wiring
Poor installation can contribute to a number of problems that should be addressed in an electrical panel. Oversized breakers, circuits doubled-up on a single-pole breaker and wires crossing over the panel's center are just a few problems that would require an update from an electrician.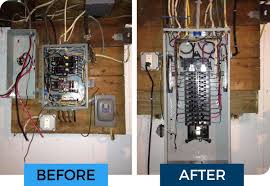 Are Your Breakers Tripping Too Often?
One of the vital roles of your electrical panel is to prevent short circuits and circuit overloads. A short or overloaded circuit could be dangerous, causing fires or electrocution. To prevent that, a breaker that notices a short or overload with switch off, shutting down power to the affected circuit. It is a crucial failsafe that prevents damage to your home or even a risk of injury to you and your family.
But if your circuit breaker is switching off more than once in a while, it may be a sign that something is wrong. One possibility is that the wiring has become loose or exposed. The heat of transferring electricity can cause wires to expand and contract. Over time, expansion and contraction can cause connections to loosen. If a small gap opens up between a wire and an outlet, the electricity can try to jump the gap in the form of a spark. Such sparking is a serious fire hazard and needs immediate attention.
Regularly tripping circuit breakers could also be a sign of overload. If you are trying to use too many electrical devices at once, you may be overloading your electrical panel. It's time for an upgrade.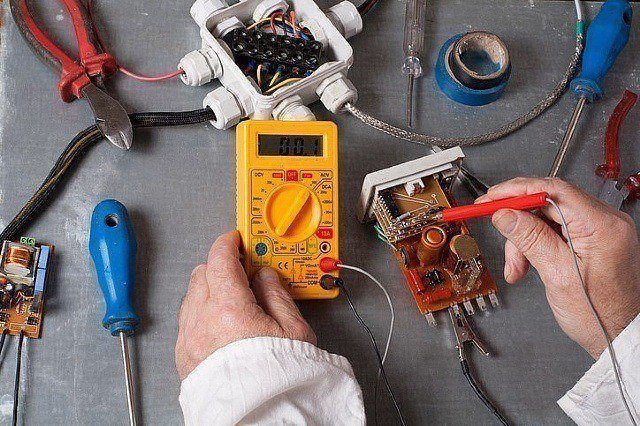 What Should I Expect from a Service Upgrade or Panel Change?
Bear the following in mind before you hire an Electrical Contractor for this project:
The power will be out for a minimum of four hours. Keep the refrigerator and freezer doors closed.
Unplug all electronics. The power will be turned on and off repetitively and may cause problems.
The workers will stay working on the panel (and surrounding area), which could be outside. But, they may need to get to the water meter and water tank to do other work.
Since the power will be off, the worksite will be dark. Please keep the areas clear for them.
The EC will need power. Please try to arrange a power source that the EC can plug an extension cord into that is always helpful. Asking your neighbour is a great option.
The EC may have to go to other rooms in the home to test and identify receptacles, or lights etc. They will use generic terms like "master bathroom", "SE bedroom", etc. Use the same lingo you are talking to your EC about your home (they don't know where "Bob's Room" is, for example).
Panel Produces Heat or Burning Smell
When the electrical panel box feels warm or produces a burning smell, it could signify faulty wiring or an overloaded, defective panel. We highly recommend scheduling a service appointment and potential electrical panel upgrade because heat can mean a high chance of electrical fire.
You Have a Fuse-Based System
Many electrical panels in older homes built before the 1970s still operate on fuses. Unlike circuit breakers which you can reset, fuses either melt, burn out or blow completely when they're tripped. This is a fire hazard, and for an older home that needs to meet modern power demands, it's definitely unsafe.