WEDDING DJ – TIPS ON CHOOSING + TOP DJ'S
Choosing the right DJ for your wedding can make or break your special day as the music creates the whole vibe of your event. The soundtrack for your wedding reception will be created by the DJ that you choose. This is why it is important to find the right one
There are certain pointers for finding that extra special disc jockey. Who will transform your reception venue into an enjoyable location for all your guests? These are some of the factors we will be highlighting in this article on how to choose a wedding DJ. Things like wedding DJ songs or how much DJ's for weddings might cost are all addressed below.
The Average Price For Wedding DJ
Music is the soul of a wedding, and only the best service can make your wedding unforgettable. Knowing the average wedding price for DJ helps you work better around your wedding budget.
The average wedding cost of a DJ is between $610 to $960. The minimum DJ's price is $400 while the maximum is $2,200. This is for DJ costs only, as other side toppings attract extra pay. The average wedding DJ price for a 4 or 5hr long wedding is between $600 to $1500. A professional DJ's costs for a wedding is between $1000 to $2500. This applies to DJ's who are skilled and with years of experience on the job. They do it full time and charge quite a bit high.
Wedding DJ cost per hour
The hourly average cost of the DJ for a wedding is between $150 to $300. Most DJ's charge an hourly rate. But others insist on a minimum number of hours one must book with them. You should also check how much they charge for overtime, and other add-on offers.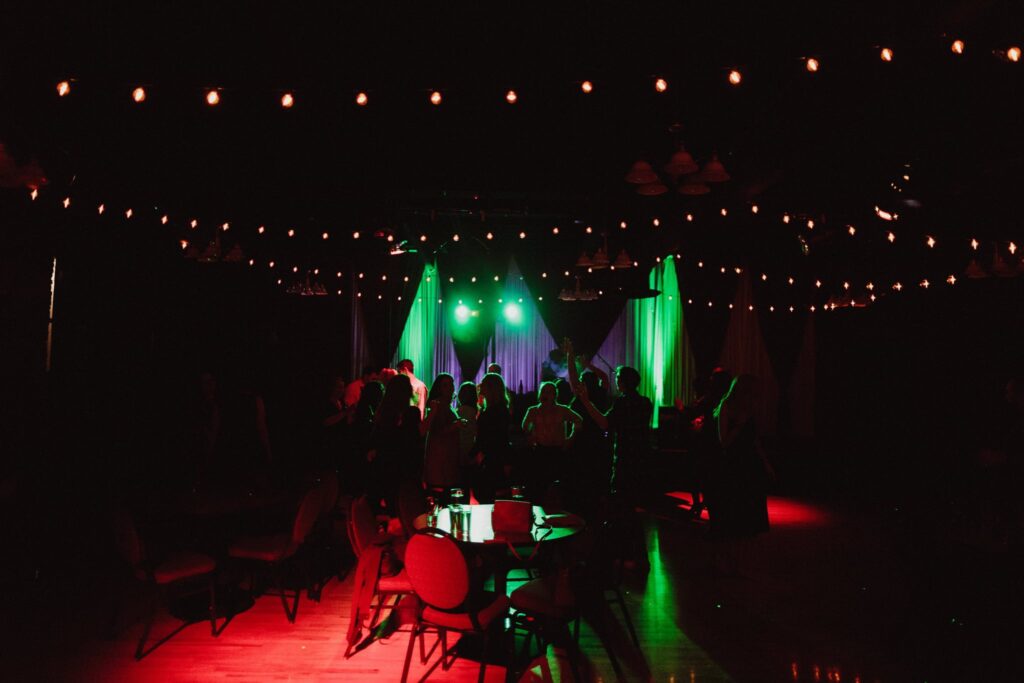 Deciding Between a Band and a DJ
Perhaps one of the hardest decisions you'll make when planning your wedding reception is choosing between a band and DJ. Many aspects go into your decision, atmosphere, cost, and range of services. So, let's dive in
Atmosphere.
The entertainment you select for your reception will set the mood for the entire evening (or afternoon if you're doing a brunch wedding!). One thing to think about is the fact that not all bands are the same, just as not all DJs are the same. Folks who lean towards bands typically think DJs are either boring or obnoxious, which isn't always true. And folks who lean towards DJs think bands are limited in genre, which also isn't always true. A party band can play a wide range of music and provide an exciting atmosphere. A fun DJ can also keep the party going without being obnoxious by talking too much but instead being interactive with leading the crowd. In both cases, you should expect a fun evening for your guests with either.
Cost.
The difference between good and great is almost always cost. A great wedding band typically charges between $7,500 and $10,000. Keep in mind, they have to divide that among the band members, the booking agent, etc. A great wedding DJ will charge between $1,500 and $3,000. Factored into the DJ's costs are equipment, insurance, advertising, and value of services. There are cheaper bands and DJs, but if you're looking for the best and most exciting environment, these are good ballpark figures to consider.
Range of services.
This is where you need to ask questions to your band or DJ. Do they offer multiple setups outside of reception for cocktail hour and ceremony? Do they provide MC services on your wedding day and help direct the timeline of events? Do they take breaks? If yes, for how long? Do they take requests from guests or have a pre-crafted playlist? The answers to these questions should factor into your decision as well.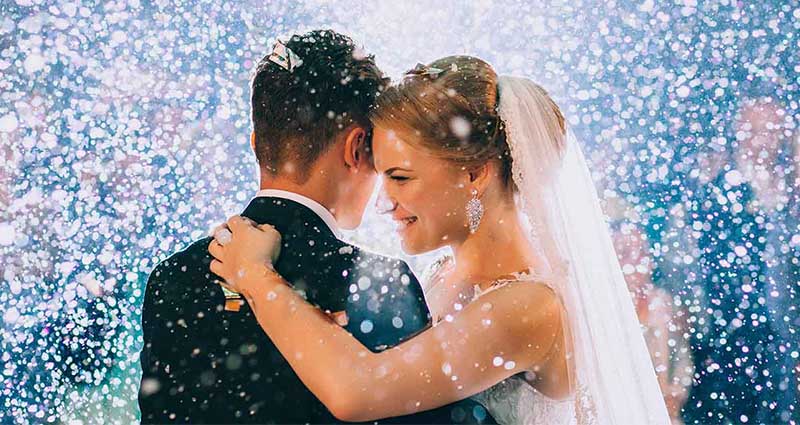 HOW TO CHOOSE YOUR WEDDING DJ
There are two vital things that make or break your wedding – food and music. While the former is easier to control, choosing the right wedding DJ is a trickier task. Your DJ is the one who sets the mood for the event and ultimately ensures that everyone has a great time. If you get a bad one, well… let's just hope no one snores too loudly! Here's a checklist of things to note when hiring a DJ for your celebrations.
You get what you pay for
DJs are a cheaper alternative to "live" bands and prices do vary from as little as $250 to $3,000. Try to stick to your budget as there are many options out there. That being said, considering how much you're spending on the rest of the day (flowers, venue etc.), don't cut back on this and have your reception ruined by dull, snoozy entertainment
Word of mouth recommendations
When seeking out DJs, ask people you trust for recommendations, like friends and family or your venue operator. Don't just take the word of a friend of a friend who's knows of somebody who dabbles… Your DJ should be fun, reliable and flexible to changes. Do check out their equipment too. You wouldn't want someone who uses tacky effects as part of the package, or has poor quality speakers (yikes!)
Ask the right questions
What if you're sick or unable to make it to the event? What happens if your computer breaks down in the middle of the reception? Do you play songs with explicit lyrics? How will you encourage guests to dance? These are some questions you should be clearing out of the way before hiring your DJ. You wouldn't want someone who doesn't know how to work the crowd or doesn't have a Plan B
Handling the playlist
A good, professional DJ always caters to the clients and guests. While your DJ will add their own style and flair to put the night together musically, he or she must honour your must-play and do-not-play lists. But the bigger question is – do you want to approve every song or give him the freedom of creative expression? Songs for specific aspects, like your first dance, should definitely be picked out beforehand. But for the rest of the day, give your DJ the freedom to mix it up.
How to Choose a Wedding DJ
Choosing a Wedding DJ
As a wedding DJ myself, I've followed this industry for the last ten years and have met many other DJs along the way. With so many other to-dos when you're planning a wedding, hiring a DJ can sometimes get pushed to the bottom of the list. If you are struggling with how to make such a large decision, I've put together a quick guide to helping you pick the right wedding DJ. I'll refrain from talking about my company in this blog post, but if you have questions about Bow Ty Audio
Price
How much it costs to book a DJ usually indicates quality. If quality is a concern of yours, you should expect to pay more than $1,000. The best wedding DJs do this as their full-time gig and the professional ones truly care about their clientele and production quality. These DJ's want to give their clients the best experience possible – not only because they care but because if they don't they will be out of business!
Experience
Experience is the most important aspect when choosing a wedding DJ. If you think back, I imagine you can remember a wedding you attended where the DJ made or broke the evening… With that being said, you can't go wrong with an experienced wedding DJ with the right equipment. As we discussed before, price is a good indicator of quality but you may have to look deeper to prove it
Before reaching out to any DJ make sure to read the reviews on the ones you are considering. Reviews from The Knot, Wedding Wire or Google can be very helpful. You can gain a lot of information about the type of work the DJ does, how he or she interacts with clients, and the type of experience he offers through previous client's feedback. Once you've narrowed down your list, make sure to ask your DJ how long they've been DJing or how many weddings they've done. They have to be doing something right if they're still going after many years!
Style
My last point is on the DJ's style. You want to find a DJ that is professional & resonates with your tastes. Let your DJ know what genres or songs you'd like played and what type of music they should skip. You should definitely ask if they've DJed weddings in the past that align with your preferences. Some DJs are skilled at mixing music, some know all the best two-step songs, etc.
How To Choose The Perfect Wedding DJ
Everyone knows that getting married is so much more than just the ceremony itself and it is immensely important to get the evening entertainment spot on. The route most people to go down is the wedding DJ, and when done correctly this can be a big hit.
What Should A Wedding DJ Provide?
First and foremost a wedding DJ is there to make sure you and all your guests have a good time, therefore, choosing the right one is absolutely crucial. As well as bringing their own equipment including mixers, lights and speakers a sense of fun and enthusiasm are even more important.
When to Book A Wedding DJ and How?
It is never too soon to put plans in place for your special day, so as soon as you know your date then get in touch with Champions Music & Entertainment and we can get the wheels in motion to make sure everything is done with minimal hassle.
How Much Does A Wedding DJ Cost?
Again, this really depends on what you want. Evidently, a celebrity DJ will bring a higher charge due to their celebrity status but this does not necessarily mean that the quality suffers by opting for the non-celeb alternative.
For example, DJ Ross Maslin might not be a household name but he has won awards for his DJ skills in the UK. Having appeared at over 100 venues across the country he is extremely versatile and as there is likely to be a wide range of ages at your wedding, is able to leave all of them thoroughly entertained. Champions Music & Entertainment are able to listen to your exact needs and then match you to a wedding DJ who suits you best.