How To: Choose a Water Heater
Whether tank or tankless, water heaters can dramatically impact your home's comfort and costs. If you are looking to replace an existing unit, the type, size and efficiency of the one you choose will be important
While we often take a hot shower or bath for granted, it's important to note that up to 20% of a household's annual energy expenditures come from heating hot water. That makes it the second largest utility expense in the home, according to the U.S. Department of Energy, averaging around $400 to $600 per year. If you are looking to install a new hot water heater—or replace an existing one—the type, size and efficiency of the unit you choose will have a big impact on its performance and long-term savings.
There are a number of different types of water heaters to consider from heat pumps to solar-powered units, but the most common are tank and tankless. Traditional, tank-style water heaters are large metal cylinders that keep hot water stored and on reserve for when it may be needed. Since they typically range in capacity from 40 to 60 gallons and are generally about 60″ tall by 24″ wide, they are often installed in a basement or laundry room.
Tankless units, also known as "on demand" water heaters, turn on only when hot water is required. With no holding tank, the system is not only more compact—typically 20″ wide by 28″ long by 10″ deep—but more efficient since it is not storing a reserve of hot water (or compensating for its subsequent heat loss). Tank-style water heaters are usually less expensive than tankless units, but tankless models generally last longer: a traditional water heater usually lasts 10 to 13 years, while tankless water heaters can last up to 20 years.
Regardless of whether the unit is tank or tankless, water heaters generally fall into two categories: direct-fired or indirect-fired. Direct-fired means that the water in the tank is heated directly by the heat of a flame; these units are generally used in homes with warm air furnaces. In direct-fired heaters, fuel is burned in a combustion chamber under the water storage tank, then hot flue gases heat water in the tank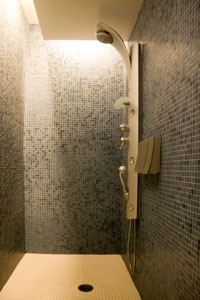 Water Heater Buying Guide
The cost of heating water consumes almost 20 percent of your household budget, second only to what you spend on heating and cooling your home. Despite this expense, water heaters are typically ignored until they break, leaving you with no hot water and, possibly, a flooded basement.
If your water heater is nearing the end of its useful life and you're thinking of replacing it before disaster strikes, you'll be happy to know that you have better choices, thanks to recent federal regulations that require water heaters to be more energy-efficient. New storage tank water heaters are required to operate more efficiently, and tankless (on-demand) water heaters are even more efficient than that.
Typically, homeowners replace their old water heater with one of the same type that runs on the same fuel—natural gas or electricity. Switching from a tank water heater to a tankless unit can be expensive because it requires you to retrofit your plumbing and possibly your electrical system. But if you're building a new home or adding to an existing one, installing a tankless water heater may make economic sense.
Consumer Reports recently tested several electric and gas whole-house tankless water heaters from brands such as Bosch, Navien, Noritz, Rheem, Rinnai, Tempra, and Trutankless. We compared the results with those of conventional tanked heaters from Rheem, one gas and one electric, as well as with a Rheem electric heat pump water heater, which is a variation on a tanked water heater.
Following a "heavy use" industry standard test, we compared the performance of gas and electric tankless water heaters with the performance of their conventional tank counterparts. The test used a high draw pattern equal to using 84 gallons of water per day. That's the daily equivalent of taking several showers, running the dishwasher, washing one load of laundry, and turning the faucet on and off multiple times. The test used an inlet temperature of 58° F for gas models and 74° F for electrics (plus or minus 2° F) and a target outlet temperature of 120° F.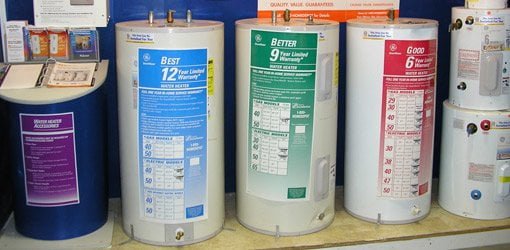 How to Choose a New Water Heater
It's the dead of winter, freezing cold outside, and you seek comfort in the piping hot confines of your morning shower. With the lights dimmed, the water hits your face and rolls over your shoulders. Your muscles relax one by one as the warmness of the water finds its way down your legs to your chilly, restless feet. Lathered with soap and shampoo, you slump against the warming tile, eyes closed. You consider falling back asleep standing fully upright when it happens — a sudden burst of ice cold water hits your chest like acid rain. You crank the cold water down to zero with no result. The water temperature has turned against you, refusing heat in a stubborn show of determination. The cruel reality hits you — your water heater has just bought the farm.
A visit to your local big-box home-improvement store is overwhelming, to say the least. You're faced with too many brands and too many sizes to choose from. Different fuel sources and energy ratings confuse you. And what's the deal with these heaters that don't even have a tank? How on earth can they meet your needs? Unfortunately, your big-box home-improvement employee helps you none — you're going to have to figure
You should start your journey by reading How Water Heaters Work to fully understand how a storage tank heater operates. We'll get into tankless models in the next section, but for now let's look at the fuel options you can use for a storage tank water heater.
Electric – uses large coils that hang down into the tank to heat the water. The coils are similar to the ones in an electric oven. Generally, electric water heaters aren't as efficient as those powered by other fuel sources, and electricity is more expensive than natural gas or propane. However, they're less expensive up front and don't require venting. If your water demand is small, then it may be a good way to go.
Natural Gas – uses a gas burner at the bottom of the tank, with a venting chimney that runs through the center and out the top. The carbon dioxide and water vapor byproducts are vented through the chimney and then run outdoors through your house chimney or side wall vent. A gas pilot light or electric spark produces the flame. Natural gas models cost more than electric heaters but are more efficient to operate.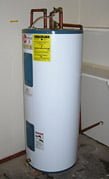 HOW TO CHOOSE A WATER HEATER
Heating water is the second largest single user of energy in the home. While we all enjoy a soothing hot shower, rising energy costs—along with their adverse environmental impact—make it a good time to take a closer look at the various options now available.
Storage Tank: The most common hot water system used in homes. Water is kept constantly heated in the storage tank by electricity, natural gas, oil, or propane. Hot water is drawn out of the top of the tank when a faucet is turned on and cold water flows in the bottom to replace it.
Tankless: Also known as on demand water heaters. Water is heated by electricity or gas when the water flows through it without the need for a tank.
Solar: Water is circulated from the tank through a solar collector where it is heated by the sun. If the water in the tank is not hot enough, a conventional water heater is used to bring it up to the desired temperature.
Heat Pump: Heat pumps use electricity to move heat from one place to another. Heat pumps can be used for water heating alone or in combination with your heating and air conditioning system.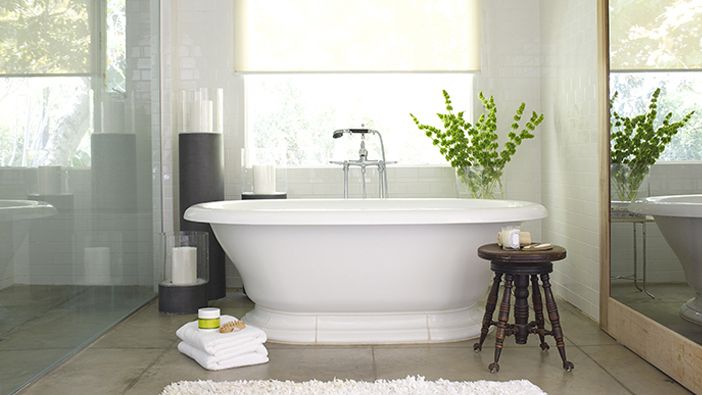 Water Heater Buying Guide
Purchasing a Water Heater
Whether you've just taken that first unexpected and unwelcome cold shower or simply wish to reduce your energy bill, purchasing a new water heater can be an intimidating process
Fuel Source
First, determine what type of fuel source you have in the home. Once you know the fuel source, it'll be easier to choose a water heater to fit your needs. Here are the differences among electric, gas/propane and hybrid fuel types.
Storage Tank
This is the most common type of water heater. These units have an insulated tank where water is heated and stored until it's needed. They're available in electric, liquid propane (LP) and natural gas models. Natural gas and LP water heaters normally use less energy and are less expensive to operate than electric models of the same size. When you buy a water heater, look at its cited energy efficiency and yearly operating costs. This information can be found on the EnergyGuide label.
Tankless or On-Demand
They don't store hot water; they heat water as it passes through a series of coils in the unit. Since the unit only heats water as you use it, a tankless heater is usually more energy-efficient than a traditional storage tank water heater. They're available in electric, LP and natural gas models. A tankless unit can provide only a limited flow rate of hot water. Most tankless units can provide up to 3.5 gallons of heated water per minute. These units are a good choice for anyone whose demand doesn't typically call for hot water at more than two points at a time
Point-of-Use or Utility
Small storage tank water heaters, known as point-of-use or utility water heaters, are good choices for adding hot water to outbuildings, shops or garages. Utility water heaters usually range in size from 2.5 to 19 gallons. The largest of these miniature units can also be used to provide hot water to secondary bathrooms that may be situated far from your home's main water heater.